NexTier Bank thanks all the teachers, teacher's aides, and community members for participating in the 2023 Teaching Our Next Generation Essay Contest & Good Neighbor Award.
This year, after taking a small recess, 26 teachers submitted essays, and 17 teachers were nominated for the Good Neighbor Award.
---
AND THE WINNERS ARE …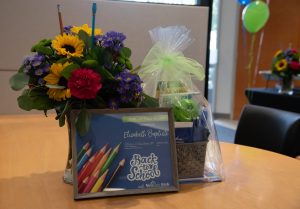 1st Place: Elizabeth Baptiste,                        Butler Catholic School
Her essay reads:
As a student in college earning my teaching degree, my days were often filled with completing practicums in numerous elementary schools. Interestingly enough, after close to fifteen years of teaching, this moment continues to stick with me. A moment where the teacher became the student.
In the spring of 2008, I was assigned to a practicum at a school for students with special needs. One student had captured my attention from the very beginning. She suffered from prenatal alcohol syndrome. While her classmates chatted and laughed in the classroom, she spent her time alone. Her home life had made it difficult for her to trust and depend on anyone. Despite her reserved demeanor, it was evident that she held a deep passion for music, pouring her heart and soul into singing. Her ultimate goal was to become a famous singer like "Hannah Montana," the Disney character she admired.
As we neared the end of the school year, the annual Talent Show was announced. The student's eyes lit up with a mixture of excitement and trepidation. She was ready to sign up, but we both knew that she didn't have anyone in her family who supported her endeavors. My heart ached for her, recognizing the significance of this opportunity in her life.
As the date of the talent show drew near, my schedule became increasingly chaotic. There were meetings with my professors, practicums at other schools, and evening classes that seemed to conspire against me, threatening to keep me away from the talent show. However, a deep sense of responsibility tugged at my heart. I knew that my presence could make a difference – not just in her life, but in her perception of the world around her.
The day of the talent show arrived, and I found myself torn between my commitments and my desire to be there for her. After much juggling and rearranging, I made it to the school auditorium just in time. As I slipped into the back row, I saw her on stage, microphone in her hands. The melody she sang seemed to resonate not just through the hall but through the depths of my soul.
Yet, what truly caught my attention was the surprise in her eyes as they scanned the audience. She seemed to be searching for someone – perhaps a glimpse of the family she so desperately wished to have there. Our eyes met, and I saw a mix of disbelief and joy wash over her face as she spotted me. In that instant, I knew I had made the right choice.
In all of the classes I had taken to receive my degree, it took a nine-year-old to teach me the most important lesson in teaching. She taught me that as a teacher, my role was not limited to delivering lessons and assessing knowledge; it was about being a source of unwavering support for my students.

2nd Place: Laura Murray,                                  DuBois Area School District
Her essay reads:
In every teacher's career, there comes a moment when a student touches their heart in such a profound way that the memory remains etched forever. For me, that moment arrived in the form of a ten-year-old boy named Brad* (name has been changed). Brad was not the brightest or most exceptional student in class, but he possessed a determined spirit and an uncanny ability to bring out the best in everyone around him.
While his academic performance might have been average, his enthusiasm for learning and contagious laughter were anything but ordinary. Brad's presence alone could brighten up the dullest of days, and his classmates adored him for it. As the year progressed, Brad faced personal challenges outside of the classroom. He had experienced vision problems most of his life, and they were getting worse. Without intense medical intervention, he was in danger of losing his eyesight. His family had been experiencing financial difficulties due to the increasing medical bills, and it began to affect his academic performance and overall demeanor. However, despite the hardships he endured, Brad maintained his unwavering optimism. I noticed that Brad's smile had become a little less radiant, and his once sparkling eyes seemed to dim. Concerned for my student, I decided to have a heart-to-heart talk with Brad during recess one day. The conversation revealed the true strength of this young boy's character.
Brad shared his family's struggles with bravery admitting that times were tough but that they were getting through it together. He expressed his desire to succeed not only for himself but also to alleviate some of the burdens on his family's shoulders. His determination and resilience left me in awe. As the school year came to a close, I knew I had to find a way to support Brad and his family. With the help of fellow teachers and the school community, we organized a meal train for Brad's family. A meal train is a system where a network of family members or friends band together to schedule, prepare, and deliver meals for somebody who needs a little extra help. With the weight of financial worries lifted, Brad's spirits soared. His smile returned, brighter than ever before, and his dedication to his studies reached new heights. Despite missing school to receive medical treatment, he flourished in his fourth-grade year and continued to impress everyone around him with his unwavering commitment to succeed.
In conclusion, sometimes the students who make the biggest impact on a teacher's life are not the ones with the highest grades or the most accolades. Brad taught me the invaluable lesson that true greatness lies in the spirit of perseverance and the courage to dream big, regardless of the obstacles life presents.

3rd Place: Scott Newell,                          Armstrong School District
His essay reads:
If you stay in the teaching industry for any length of time, you often find yourself second-guessing your career choices. You work tirelessly to meet the needs of every student. You try to provide structure, guidance, and security while helping students meet the required standards set forth by the state.
A few years back, I found myself wavering on whether I was making a difference with my students and if it was time to leave education. About that time, I received a Facebook message from a student that I had 13 years earlier. He said he had been thinking about me and would like to come visit me at school. The memories came rushing back of a student that had a world of potential but was a typical distracted young man that found himself in trouble often. Some days were challenging with him, but I decided early on that I was going to challenge and encourage this young man to become a better student and control the behaviors that were impacting his learning. The year passed, and we survived. That was my first-year teaching, and I was encouraged with the decisions that I made for reaching my at-risk students. It shaped my teaching philosophy for every year that followed. However, I now found myself questioning my effectiveness, and this young man, now an adult, came by to say hello.
The day arrived that my student was coming to visit. I was excited to see him and see where life had taken him. As he arrived, we shook hands and began to reminisce about our time together. We laughed and shared stories about our fond memories. He then shared details about his life now and about how he was expecting his first child. As our time was winding down, he said, "I wanted to reach out to you and personally thank you for all the times that you encouraged me to do better. You were one of the only teachers that always believed in me and pushed me to do better. It made such a difference in my life, and I don't think I would have finished school without you. Thank you!" As I fought back the tears, I gave the young man a hug and told him that he has no idea how much I needed to hear that. I explained how having him as a student, shaped who I was as a teacher. I explained that his words of encouragement helped confirm that I am doing exactly what I should be doing in this life.
His visit helped to keep me in this career and fuel me daily to help meet the needs of every student. I learned early on that I learn as much from my students as they learn from me. I now try to enjoy every day with my students and realize that we don't always get to see the fruits of our labors immediately. However, if you are putting your students first, the growth is happening.

Good Neighbor Award: Stephanie Arienzo,      Butler Area School District
Nomination #1:
Mrs. Arienzo is the example of what a special ed teacher should be! She goes above and beyond for every one of her students. She tailors the lessons to gain the kids interest, is creative in her lesson planning, and truly loves our kids. She has an amazing instinct when it comes to figuring out what our kids may need and how to reach them at their level that makes such a difference. Even on rough days, she remains positive, loving, and kind. Every child, like mine, deserves a teacher like her.
Nomination #2:
When it comes to special education teachers, there is no one more deserving of recognition than Mrs. Arienzo.
Mrs. Arienzo has always been passionate about special education and the progress of her students. She has worked tirelessly to create an inclusive environment where students with special needs can thrive. She has established numerous programs and initiatives designed to help her students feel comfortable and build their self-esteem. Mrs. Arienzo has also been an advocate for special education in her community, working to ensure that students with special needs receive the necessary resources and support. She is incredibly patient and kind with her students, making sure that they understand the material and feel supported. She is always willing to go the extra mile to help her students, no matter what the situation may be. Mrs. Arienzo also has a great rapport with her colleagues, creating a collaborative atmosphere in her classroom. It is for these reasons that I am nominating her for the Good Neighbor Award to support her work. Mrs. Arienzo has made a difference in the lives of her students, and she deserves to be rewarded for her outstanding efforts.
Nomination #3:
Mrs. Arienzo and her classroom have inspired me so much after being a guest teacher in her classroom. Mrs. Arienzo goes above and beyond for her students. Her students focus on language development, and she works so hard to help her kiddos have a voice and be a part of their community. She has such a wonderful group of kiddos and has created such a warm and welcoming atmosphere for her students.
Nomination #4:
My Geno has been lucky enough to have Mrs. Arienzo for the last 3 years. She is a special education teacher for an autistic support classroom. The patience this woman has is astounding. She is often bit, spit on, punched and at times kicked, this year, all while very pregnant. She shows such grace and understanding to all her students. She takes a special interest in what makes the kids tick and often integrates it into the day. She has helped my Geno to start to read, excel at math, and take an interest in science, when his initial teacher did not share the same aspirations for him. She is able to produce such results because she truly believes in these kids. She wants all her kids to be everything she sees in them. I cannot thank someone enough for loving my baby when I am not there to do it.